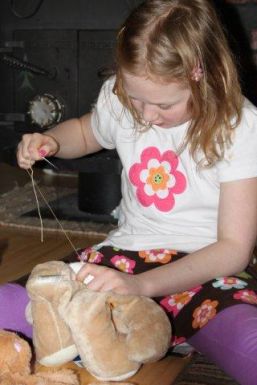 Worldwide, Tubie Friends are making a difference in the lives of children with medical challenges.  For children receiving a feeding tube, a stuffed friend with medical equipment mirroring the child's can make the entire process less frightening. Many of the children who receive Tubie Friends have multiple medical problems and have led very difficult lives. Some have never been allowed to consume food, or may have given up eating due to medical problems.
While we have managed to secure partnerships with a feeding tube manufacturer, we currently have no ongoing source of stuffed animals or other medical equipment that we use to customize our animals. The hospitals we give Tubie Friends to require that the stuffed animals and medical equipment be new. 
Please consider supporting our mission of supporting the emotional needs of children who have not had it easy.  Monetary donations are used soley to help cover Tubie Friends, supplies and/or shipping for those who can't afford it.  All our animals are funded through donations. 
Please donate!
Send a gift through PayPal.  Our paypal account is tubiefriends@gmail.com  
Send supplies or checks written out to Tubie Friends
PO Box 13824
Mill Creek, WA 98082
Tubie Friends is a project of the Pirates Charity Foundation which is a 501c3 non-profit organization and can provide you with a receipt for your taxes for your donation.  Please let us know at the time of your donation if you need a receipt.  We will need a mailing address to process a receipt.
Do you have new medical supplies that you no longer need, expired or not? 
As long as they are new, we can use the supplies in our Tubie Friends.  We are always in need of medical supplies since we try to customize our Tubie Friends to match each child.
Pediatric/Infant Nasal Cannulas 
NG or NJ Tubes
PICC & Central Line Supplies 
Port Needles 
Tegaderm or other Clear Dressings
Micro/Minibore Extension Sets 

Trachs & Pediatric Trach Ties
NG Sticker Sets
Catheters
Mic-Key Extension Sets
Slip Tip Syringes
Any other Medical Supplies