Fundraising Products
The products sold on this page are intended solely to raise funds to continue the mission of Tubie Friends™. The proceeds go directly to helping kids and hospitals receive new Tubie Friends™.
If you are trying to request a Tubie Friend, please fill out this request form and not the product order form.  If you are unsure, please send us an e-mail at tubiefriends@gmail.com
To order products like shirts and pads, click on our ordering form.  We will send you an invoice to pay.
Sibling/Caregiver Tubie Friend
Sibling/Caregiver Tubie Friends are great for schools, siblings, cousins, adults with tubes, caregivers and friends of our children. Donation funds are never used to pay for these animals.  Since the cost is entirely covered by the purchase, adults or friends may purchase a friend by using this request form.  This is also how you can get additional Tubie Friends for your child.  
Sibling/Caregiver Tubie Friend Order form

$35 for a Velvet Teddy* Tubie Friend 
$40 and higher for a custom animal* Tubie Friend
(includes shipping in the U.S. - can ship international )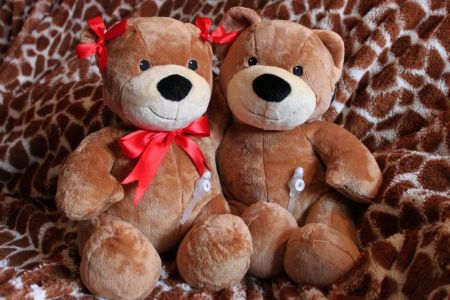 *If you are interested in a specific stuffed animal purchase, we will accomodate this request as time and supply permits.  Any specific animal requests will require the purchaser to pay for the additional cost for the animal in advance.
3" Tubie Friends Cloth Pads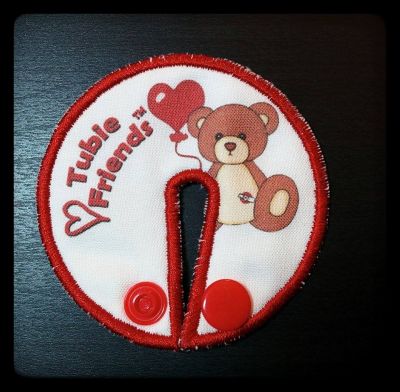 Now, your Tubie Friend can match your child even more with our cloth pads made by Feedie Friends and donated to us to sell as a fundraising item.  They are backed with very soft minky and close with a snap.  All of the proceeds from these sales go directly to helping kids get more Tubie Friends.  Prices include shipping & handling in the United States.  Additional charges will be added for international shipping. 
 
$5 each.  Please e-mail us at tubiefriends@gmail.com or use the product form.
To order other Feedie Friends designs, go to www.feediefriends.com
 Tubie Friend Clothing Sales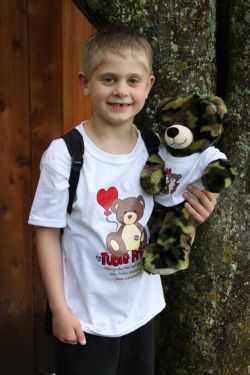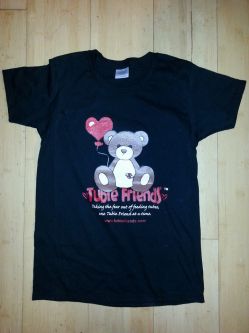 Tubie Friend T-shirts are a fun way to show the world that your child is part of the Tubie Friend Family.  White & Black unisex shirt sizes range from 6 months to XXXL adult sizes.  6 months to adult XL are $16 plus shipping and $18 plus shipping for XXL and larger.
We also have black & white lady's scoop neck t-shirts.  They have a slight scoop neck and are cut for the female body.  These will be $18 plus shipping for women's sizes Xsmall to XL and $20 for 2X - 3X. 
Please fill out the prodcut order form below and let us know what you would like. Once we receive your order, we will determine shipping costs and send you an invoice.  If you ordered a special order item (like a sweatshirt), we will contact you for sizes and shipping before submitting an invoice to you.
Have a great idea for a Tubie Friends Product?  
Send us an email to tubiefriends@gmail.com
Adjustable Cinch Bags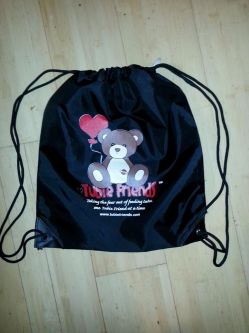 Our cinch bags fit a full-size Tubie Friend and some of its gear perfectly.  They have reinforced bottom corners and the straps are adjustable in length to fit a child to an adult. Sturdy nylon fabric makes up the rest of the backpack.   Our cinch bags are $16 and include shipping in the United States.  International shipping is available at a higher cost.